General Election Campaign Kickoff – Scott Alvord for Placer County Supervisor D2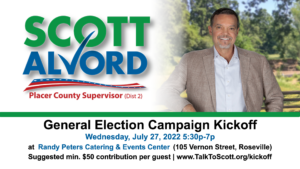 As you know, Scott's slogan, Talk to Scott, is an accurate and all-encompassing definition of the type of leader Scott is for our community. Open to listening, always available for a conversation, and quick to respond to messages received. Scott always welcomes the opportunity to learn more about any issues or opportunities that are presented in the community and welcomes input from everyone.
At the General Election Campaign Kickoff, you'll have your opportunity to Talk to Scott and share your thoughts, ideas, and input about any community matters that are important to you.
Register now and let us know you'll be there in support. We look forward to seeing you there.
Where: Randy Peters Catering and Event Center
105 Vernon Street, Roseville, CA 95768
When: Wednesday, July 27th – 5:30 pm – 7:00 pm
---
RSVP Now!
Join the Friends of Scott Alvord for Placer County Supervisor D2 campaign as we Kickoff towards the General Election. Suggested minimum donation: $50 per guest and includes heavy appetizers and one complimentary house beverage. If you are interested in sponsoring this event, please contact team@talktoscott.org.