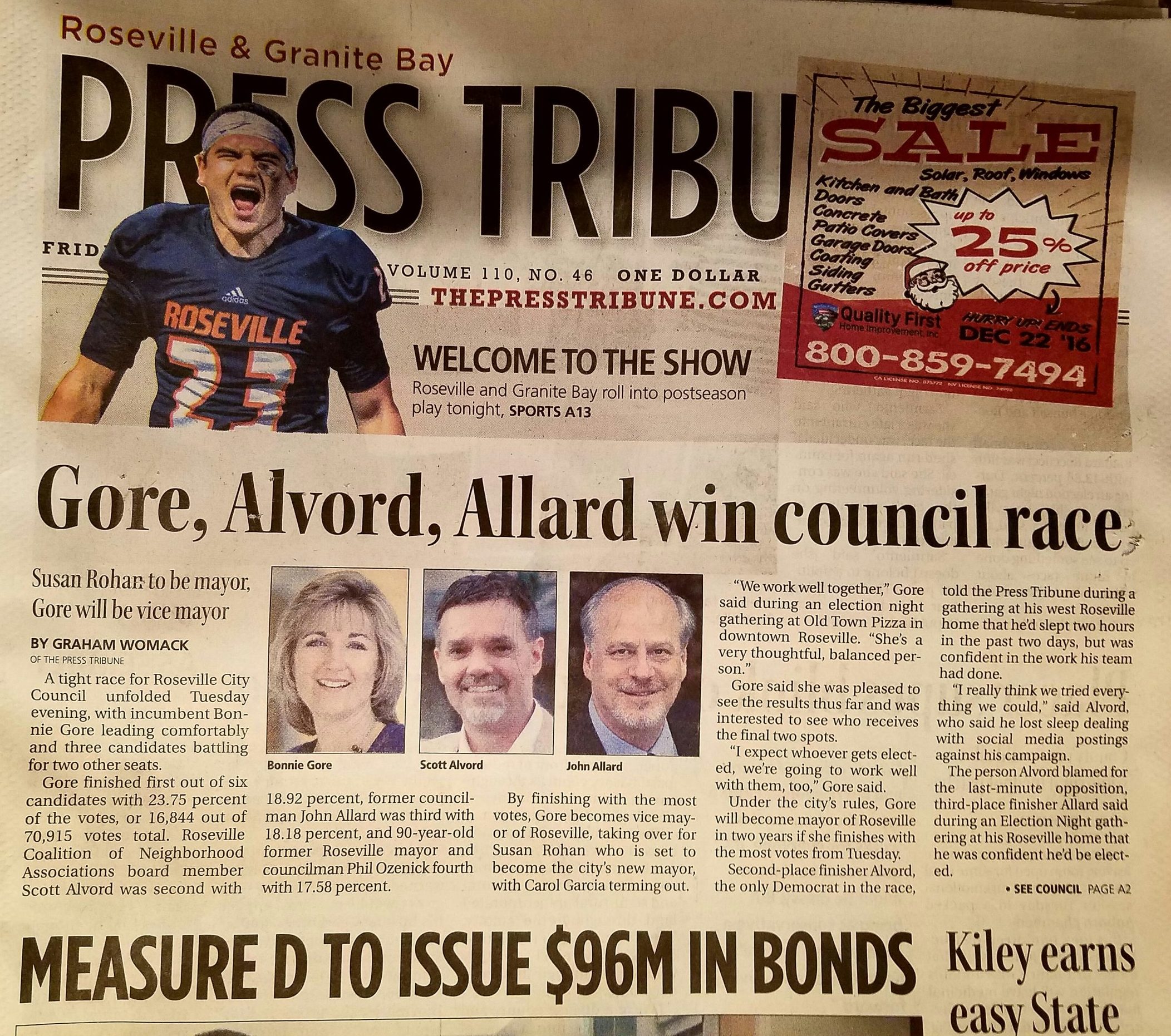 Scott Alvord is frequently in the News (newspaper, television, magazines, radio), mostly because of his volunteer activities. These include serving on behalf of neighborhoods, our business community, revitalization efforts, and free education he provides to the community.

Below is a sample of Scott in the news:
Roseville Volunteer Force
As soon as the community started going onto shutdown mode and the community started reaching out to Scott about the quick disappearance of essential items such as toilet paper, etc., Scott started and organized the Roseville Volunteer Force and brought together 1,900 community volunteers to serve the varied needs of the community.
Scott Alvord's Roseville Volunteer Force (Sacramento News & Review)
---
Business/Development/Public Service
Scott discussing future development on the West Side (Comstock Magazine)
From Business Owner to Public Servant, Alvord Does it All (Roseville Press Tribune)
Essential Checklist for Business Owners (Roseville Press Tribune)
Why You Should Start Your Own Business (Business Corner, Granite Bay View Magazine)
Does Your Business Understand Baby Boomers? (Business Corner, Roseville Press Tribune)
Roseville's Core is Quietly Growing (Sacramento Business Journal)
From Minorities to Entrepreneurial Majorities (Business Corner, Roseville Press Tribune)
Roseville Crime Rates and Safety through Neighborhood Associations (Fox 40 News Interview)
Female Business Owners are Primed to Take Over the World (Business Corner, Roseville Press Tribune)
The Mission of the Vision (part 1 of 3) (Business Corner, Roseville Press Tribune)
The Mission of the Vision (part 2 of 3) (Business Corner, Roseville Press Tribune)
The Mission of the Vision (part 3 of 3) (Business Corner, Roseville Press Tribune)
Understanding the Most Valuable Real Estate in the World (Placer Herald)
Alvord Built Businesses (Roseville Press Tribune)
Snapchat Embraces New Roseville Images (Granite Bay View Magazine)
Scott on Roseville Lifestyle Radio (Money 105.5 Wall Street Business Network, Salem Communications)